Return to Headlines
Online Registration Open for 2022-23 for current families
Wildcat Family -
Today we open online registration for the 2022-23 school year. All current families (except for incoming kindergarten/preschool families and East Lynne families) need to complete this process. This email is long, so here's a quick list of things to know…
We need all families to complete registration & residency verification by Aug. 12.

The federal waiver for free meals has ended. We will once again be charging for all meals - breakfast & lunch. All families should complete the Free & Reduced Meal application as part of the registration process. In addition to free or reduced pricing, you could qualify for discounts on Chromebook insurance and testing fees (ACT, AP). The district's Free & Reduced lunch percentage helps with federal funding as well.

It's easier to complete this process on a laptop computer. No laptop? See below for a registration event on Aug. 3 where you can use a district computer.

Class placements & schedules will be available on the Portal in August. You will receive more information at a later date.
Earlier today, you should have received an email from ParentPortal@harrrisonvilleschools.org with your username and password for the Parent Portal. This is simply a reminder of your password in case you've forgotten it. It is NOT a new password.
To complete the registration process, you will log into Parent Portal from the link on the website - www.harrisonvilleschools.org - it's the paper clip icon under the main photo.


Make sure that you're attempting to log in on the Parent tab (there are three tabs - Staff, Parent, Student).
Once you are in the Portal, you will see a yellow bar with "Online Registration must be completed for the 2022-23 school year." Click on View.


You'll see a full page of "tasks" - some of these will require a simple check box, while others will take more time. You can start, stop, and go back later to finish if you need to. To begin, click on Edit next to Welcome.
**There are fields with an asterisk - those are required fields.
At the bottom of each screen, you will need to click on the box next to "I have completed this form and understand that checking this box is considered to be my electronic signature of the form, certifying that the information above is true and accurate." then click Next (yellow).


As you begin the registration process, you will start by verifying family information including contact information, emergency contacts, etc. It is important that all contact information is up-to-date as this is what we use for regular and emergency communication.

On the emergency contact screen, if you need to edit any information, click on the three dots in the upper right corner.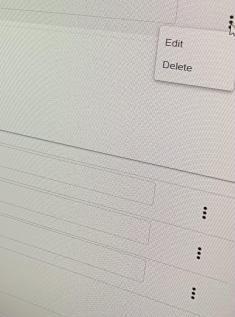 Please note that you will be able to upload your residency verification documents during this process if you have a .jpg or .pdf (photo or scan) of the document. If you do not have that handy, you can email it to residency@harrisonvilleschools.org later. As a reminder, residency can be verified with one of the following:
A current, original utility bill that is no more than 30 days old. The bill must be in the resident's name, and no final notices will be accepted.

UTILITY STATEMENTS INCLUDE GAS, ELECTRIC, AND WATER.

THOSE ITEMS THAT WILL

NOT

BE ACCEPTED ARE TELEPHONE, CABLE, MORTGAGE, AND OTHER STATEMENTS.

PLEASE MAKE SURE THE UTILITY STATEMENT INCLUDES YOUR NAME AND ADDRESS.

A rental/lease agreement including names of all occupants (including student), dates of agreement and the name, address, phone number and signature of the landlord.

A contract to build or purchase a home within the Harrisonville School District reflecting a possession or closing date within 90 calendar days of the first day of school attendance.
If you have a high school student, you can also complete paperwork for a parking pass. You will need the following: Drivers License #, Student Phone #, Home Address, City, State, Zip, Year of Vehicle, Make of Vehicle, Model of Vehicle, Color of Vehicle, License Plate #, Insurance Company, and Policy Number. Again, you can go back later and complete this if you do not have the information on hand.

The system will save whatever you complete and you can go back to finish at any time.

At the end, you will be directed back to the main screen. Any item that is incomplete will be noted as such. You can go back to those items and fill in any missing information or click required boxes. Once all items are complete you will see this…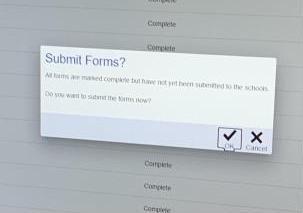 Click the check mark & you will see this…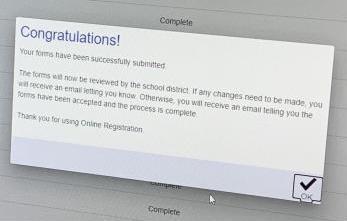 Once you see this screen, you have completed the registration process. Remember, if you did not upload your residency verification document, you will still need to email it to residency@harrisonvilleschools.org.

For those without access to a computer, we will have computers and staff available on Wednesday, August 3 from 1-7 p.m. at the school district Admin Office, 503 S. Lexington to help with this process. We will also have a notary available from 1-4 p.m. for anyone who needs a temporary residency form. And finally, for our Spanish-speaking families, we will have a translator available from 5-7 p.m.

We appreciate your help in completing this process to ensure your student's information and paperwork are correct and updated in our system. If you have questions, please call our office at 380-2727.

Our building staff will be back to work on August 1. If you have building-specific questions, you can call your child's school at the following phone numbers…
ECC - 380-4421, ext. 2222

HES - 380-4131, ext. 3222

McEowen - 380-4545, ext. 4222

HMS - 380-7654, ext. 5222

HHS - 380-3273, ext. 6222
Sincerely,
Jill Filer
Director of Communications